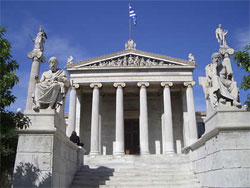 The heart of Greece is the periphery, or subdivision, of Attica. Composed of a peninsula stretching out into the Aegean Sea, several islands and some parts of the Peloponnese, it contains Athens, the capital of Greece and one of the world's greatest cities.

In its far north, there's the 16-kilometre Kitahiron mountain range that divides the land into three large plains. Thick forests cover much of the region. Its largest inland body of water is Lake Marathon, Athens' reservoir lake.
Attica has a dry Mediterranean climate, but is much colder in the mountains, and some areas get snow. Along the coasts and on the islands are many popular beach resorts and small fishing villages.
While Athens has many treasures of Greek's Golden Age, there are many museums and archeological sites throughout Attica. There are also many churches here that date as far back as the 11th century.
Athens
More than three millennia old, the great city of Athens is a bustling modern city. Its traffic-ridden streets and crowds cannot hide the evidence of its glorious past—the Acropolis, the fortified citadel sitting high above the city. The elegant Ionic temple dedicated to Athena Nike is here, towering just above the magnificent Propylaia, the entrance built in the 5th century BC. The Acropolis also contains the most famous landmark of Athens—the ruins of the Parthenon, the temple of the goddess Athena.
The areas that surround the Acropolis have been turned to cultural and business centres, and are highly modern.
 
In 2004, a traffic-free walkway that gives access to all the major archeological sites was inaugurated in Athens. The National Archeological Museum and Benaki Museum contain examples of Greek art through the ages. The city's metro stops often display ancient Greek artifacts unearthed during the construction of the underground railway system.
This large, sprawling city is quite densely populated and polluted. Traffic is bad. These problems were partly addressed when Athens was spruced up for the 2004 Olympics, but not eradicated. Still, there have been many improvements. A modern international airport was built. Many new roads were constructed, and the metro system is still being expanded.
Along with restaurants and tavernas, cafés are plentiful here, as the Greeks love coffee. There's a vibrant nightlife—there are hip bars and unique dance clubs in Psirri, the most popular nightlife district, and Gazi, which is more of an alternative neighbourhood.
The upscale Kolonakidistrict has chic lounge-bars, while bohemian Exarhia offers alternative rock clubs. From time to time pop music concerts are held at the open-air theatre on the slopes of Mount Lycabettus, the highest peak in Athens. In the summer, many dance clubs open along the coast and the Greek Festival offers plenty of international music and dance events.
Athens is officially divided into seven municipal districts. However, Athenians prefer the division of the city into neighbourhoods according to their history and character.
The 73 municipalities around the city proper are divided into four suburban zones. These are:
the northern suburbs, which are quite upscale;
the southern suburbs, also mostly upscale;
the eastern suburbs, which have a mix of middle to high-income inhabitants;
the western suburbs, which are mainly middle class.
Kolonaki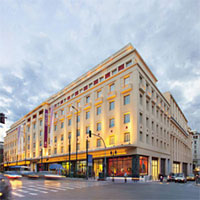 The elite's ultimate hangout place is Kolonaki, the neighbourhood bounded by Vassilisis Sofias, Akadimias Streets and Lycabettus Hill. It is full of exclusive restaurants and cafés. There are many expensive boutiques, as Kolonaki is one of the major shopping districts of Athens. In particular, Voukourestiou Street is famed for its jewelry.
There are many museums in this area, including the Benaki Museum, an excellent private collection housed in a neoclassical manor. Most of Kolonaki's museums showcase specialized collections of the different aspects of Greek culture.
Ekali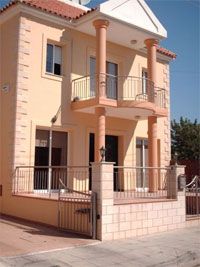 The exclusive suburban district of Ekali is 20 kilometres north of the city of Athens. Development of this area began in the 1960s, with upscale homes built among the greenery then still abundant. The construction hasn't stopped, and Ekali's population continues to grow.
As Ekali is an entirely residential area, no businesses can be set up here, though there is a taverna in the area. Ekali is served by one primary school, one secondary school, and several churches. There are a few squares and playgrounds. There is also an exclusive country club. This is also home to the Spyropoulos Foundation, established in honor of the renowned Greek abstract artist and former Ekali resident, the late Gianni Spyropoulos.

Kifissia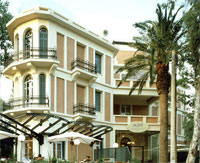 Kifissia is among the most exclusive of the northern suburbs, and home to many major political families. The housing is luxurious, with mansions, villas, and upscale apartments. The district's lovely centre is Kifissia Square, which has a botanical garden.
Kifissia is a favourite Athenian leisure spot. It has cinemas, bowling alleys, nightclubs, many trendy shopping malls, and some designer boutiques. Its restaurants and bars are mostly upscale, the nightclubs very chic. It has some of Athens' best sports facilities. Young people especially enjoy Kifissia, often gathering at the popular Kefalari Park.
Kifissia is named after the Cephissus River, to its west, and includes part of the Penteli mountain.
The Kifissia-Piraeus electric railway line provides easy access to central Athens, and there are buses to the city as well.

Psychiko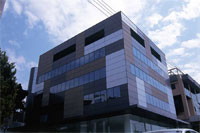 Once home to aristocrats and even royalty, Psychiko is now one of the most exclusive suburbs in Athens.
This area is solely, and strictly, residential. There are just two small zones where commercial businesses are permitted. Buildings must be fully detached and only up to three storeys high. There are some private schools and embassies in Psychiko, and a variety of sports facilities.
Glyfada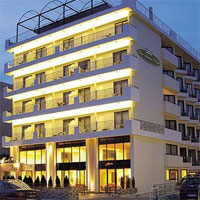 Many millionaires, celebrities, and ministers live in the modern Glyfada, which has some of the finest seaside properties in Europe. It is affluent, stylish, and—because a U.S. airbase used to be located here—highly Americanized. It is called the Athenian Riviera, with an excellent location on the waterfront. It is the largest of the southern suburbs of Athens.
Glyfada has a population of some 100,000 inhabitants. Its shopping district near the town hall is one of Athens' most varied and interesting, with many specialist and designer shops. There is good golf at the Glyfada Golf Club, the first 18-hole course in Greece.
Glyfada also has celebrated nightclubs, expensive cafés and restaurants, and glorious beaches with fine sand along the Saronic Gulf.
Plaka
Partly lying along the slopes of the Acropolis is the attractive and historic Plaka. Its architectural treasures, various little museums, and scenery make for an enjoyable cultural exploration.
Quite disappointingly, though, there is not much of an entertainment scene. Moreover, most of its establishments are aimed at tourists, and display a false and often tasteless version of Greek culture.

Exarchia
Bohemian Exarchia provides an interesting contrast to its neighbour, elite Kolonaki. Young artists, scholars, and leftists live here, or come here for the enjoyable, casual nightlife. At one time, though, riots were frequent here.

Psirri
Psirri has a great variety of shops, bars, clubs, eateries, and theatres that cater to the masses. Prices are cheap, and quality not outstanding. It has perhaps the liveliest nightlife in Athens, but certainly not the classiest.
Gazi
Gazi's celebrated nightlife attracts young people and gay crowds. Its centrepoint is the Technopolis cultural centre—formerly a gas manufacturing plant and now a venue for film showing, concerts, exhibits, and festivals. Since 2007, Gazi has become easily accessible by Metro, attracting more partygoers.
Thissio
Thissio, one of Athens' oldest districts, is close to the heart of Athenians. Its neoclassical structures and restored old houses give it a pleasant character. It is known for its numerous al fresco cafés facing the Acropolis.
Metaxourgio
In this quickly growing district, new establishments such as bars, restaurants, and galleries rise nearly every day. Not too long ago this was a seedy district and a hotbed of prostitution. These days, its clubs and bars are patronized by fashionable folk and celebrities.
Makrigianni
Makrigianni has two faces. One is the quiet residential area of Koukaki with 1960s apartments and few hotels. The other is the lively residential suburb between Leof Syngrou and Pilopappou Hill, with upscale hotels and restaurants, and gay and lesbian bars.

Commercial Triangle
This has long been Athens' main shopping district, where neoclassical buildings have been restored and converted into shops that sell practically everything. Near busy, commercial Psirri, the area is beginning to have some nightlife of its own.
Omonia Square & west of Athinas & September 3rd Streets
Colourful Omonia, a central square, has a working-class and Balkan character. Its diverse inhabitants include many Africans and Pakistanis. There are a few attractive neoclassical buildings, but the poorly reconstructed square is an eyesore.
---