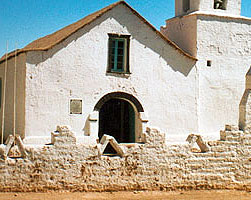 Also in the Norte Chico area and dominated by the vast, arid Atacama Desert, the Atacama Region sees little rainfall. But when it rains, the desert is awash with a colourful blanket of blooming flowers. There are also rich agricultural valleys in this region where orchards grow.

The region is divided into three provinces: Chañaral, which is located directly on the coast; Copiapó, in which is located the regional capital, also called Copiapó; and Huasco.Atacama has 528 km of unspoilt coastline and some popular beach resorts, the most beautiful of which is the Bahia Inglesa. It is known for wonderful seafood.
Copiapó
Atacama's capital Copiapó is a prosperous city, with a profitable copper and silver mining industry. The area also has rich vineyards and fruit orchards. There are few tourist attractions but it is sufficiently equipped with stores, including chain stores and large supermarkets.
There are two notable examples of neoclassical architecture in the city. Casa Matta, a large house and estate that covers an entire street, has been declared a national monument. The Atacama Regional Museum is housed in it. Copiapó Cathedral, built in the mid-19th century, has a distinctive three-tiered tower looming over its entrance. Each layer is smaller than the one below it, like a cake, and surrounded by columns like the entrance.
---