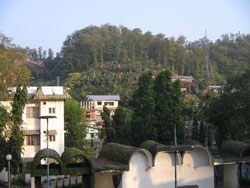 The name Assam is associated with tea and silk. It is also home to tigers and many kinds of birds. It provides one of few remaining natural havens for Asian elephants and has been successful in protecting its population of endangered one-horned rhinoceroses. Assam has been less successful in preserving its forests, though; its famous Sal tree forests are terribly denuded.

This is a watery land. The great river Brahmaputra runs through Assam, branching out into tributaries and running into lakes, making the landscape varied and scenic. Assam gets a lot of rain; the climate is very humid, and it rains a lot even in March and May, which are generally dry months in India. After the cold season from October to February, it gets rainy again. June brings the southwest monsoon.
The people mostly speak Assamese, but English and Hindi are also widely used. People of all backgrounds enjoy the state's three annual festivals.
Dispur City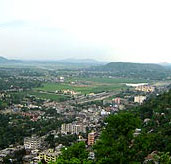 Dispur City, Assam's capital, has a population of barely 1,700. There are bigger cities around it. Small as it is, Dispur City is Assam's central point, and a regular tourist destination.

Surrounded by pristine countryside, Dispur is a favoured holiday retreat during the months of January to July. It is bordered by the Eastern Himalaya Mountains and the Naga Ranges, giving it a grand natural setting. The Kaziranga National Park is home to many of the endangered one-horned rhinoceroses of Inida. Tourists are also attracted to the area's Hindu temples.
Dispur produces tea, rice, cotton, and fruit. Tibetans, Aryans, and Burmese mix with Assamese.
The security situation is worrying. Since 1947, heavy immigration from Bangladesh has created ethnic discontent. After 1970, armed separatist groups grew up, the United Liberation Front of Asom (ULFA) and National Democratic Front of Bodoland (NDFB). In November 1990, the Indian army was sent into Assam, but communal clashes intensified in two central districts, Udalguri and Darrang. Nine car bomb explosions recently killed over 50 people.
Resentment of the central government is not the issue, rather ethnic tension.
---