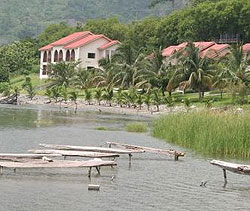 The Ashanti region is hilly and picturesque, with great tracts of rainforest interspersed with charming villages and vast cocoa plantations. Rich in resources, the region is self-sufficient and still has some of the aura of the Gold Rush days of the late 19th century, with village artisans keeping up traditional crafts like wood carving and weaving. Its climate is pleasant: cool in the night and morning, clear and bright in the afternoons. It is the most populous region in Ghana.

Ashanti is the heartland of the Asante people, who have been the dominant ethnic group in Ghana since the 16th century and who maintain their symbolic monarchy. The Ashanti royal palace is found in its capital, Kumasi, a beautiful city at the foot of a mountain.
Kumasi City
The city of Kumasi is nestled among verdant rolling hills near Lake Bosumtwi, the biggest natural lake in Ghana. Its verdant character earned it the nickname the Garden City, though environmental degradation has despoiled much of the city's natural beauty. Kumasi is one of Ghana's most prosperous cities, due mainly to its rich gold mines. Some 2 million people live here.
This cosmopolitan city has a rich past, having been prominent in Ghana's history since the late 17th century. It was an important trade centre, being well-placed on trade routes. These days Kumasi is especially known for its colourful central market, its royal palace, and its museums. There is a 19th century British fort which is now a museum, and the vast National Cultural Centre, which has a library, a museum, a crafts shop and even a zoo.
---