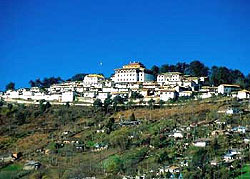 The easternmost state of India, Arunachal Pradesh is called the "land of the rising sun". Its name literally means "land of the dawn lit mountains" in Sanskrit. Most its population are of Tibeto-Burman origin, but 35% are immigrants, including many from Bangladesh, and from neighboring Assam, Nagaland and other parts of India. There are also many tribes, including the Adi, Galo, Nishi, Khamti, Monpa and Apatani.
Hindus account for 35% of the population; 20% are animist, who follow animistic religions such as Donyi-Polo and Rangfrah. including the Nocte and Miri peoples. Another 13% are practicing Buddhists, a mixture of Tibetan Buddhists and Theravadins.
Much of Arunachal Pradesh is covered by the Himalayas, which separate it from China and Burma, and by the Patkai hills.
This is a land of myth, with sites like Malinithan, fabled home of Rukmini, Lord Krishna's wife; and lake Parshuram Kund, supposedly where Parshuram washed away all his sins.

Nature lovers will enjoy hiking and rafting in this scenic state, or visiting the Namdapha tiger project in the district of Changlang. Other attractions include several picturesque lakes.
Located in the foothills, the capital Itanagar is an agricultural area. Its name refers to the region?s main landmark, the 15th-century Ita-fort. Other attractions here include the legendary Lake Ganga and a new Dalai Lama-consecrated Buddhist Temple.
The area is mostly dominated by the Nishi tribe.
Itanagar town, the state capital, is quite cosmopolitan, with a diverse population of Indians from different parts of the country. The town was made the capital not only because it is associated with Mayapur, the capital of the 11th century AD Jitri dynasty, but because it is well-connected to all of India by its roads, being near the main road and railway by the Brahmaputra River. It is also accessible by air.
---