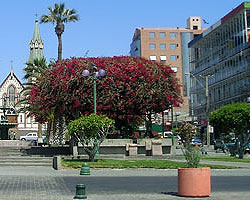 On the northernmost tip of Chile, Arica and Parinacota make up a single region near the Peruvian border. The region was created only in 2007, and was extracted from the Tarapaca Region. The region is the subject of a border dispute between Chile and Peru.

Arica, the northernmost city, is the regional capital. It is a favourite summer holiday destination for Peruvians. Arica also sees a lot Bolivian tourists, being connected by rail to La Paz, Bolivia. The city also has an international airport.
The city has a number of architectural gems, including the historic Saint Mark's Cathedral, its former Government House, the old Customs building and the vintage railway station, now turned into a museum. There are also archaeological sites on the outskirts of the city.
Very little rain falls in Arica. Its dry climate is part of its attraction along with its beaches, such as Chinchorro, El Laucho and La Lisera. The beaches are great for water sports. The Lauca National Park and the Las Vicuñas Natural Reserve are havens of natural beauty. The snow-capped Parinacota volcano on the Chile-Bolivia border is popular with tourists, even though it is still active (smoke can still be seen coming from the crater). It casts its reflection in the still blue waters of the Chungará Lake below.
---