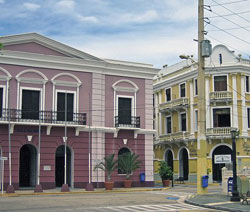 The town of Arecibo was the site of a historic battle that took place on Aug. 5, 1702. With just a handful of soldiers, Antonio de los Reyes Correa, a Spanish army captain, repelled a British invasion by sea. In his honour, Arecibo is also known as La Villa del Capitan Correo.

One place of historical interest is Arecibo's City Hall, which once served as the jail for the men who participated in Puerto Rico's historic cry for independence, El Grito de Lares.

Astronomers and film fans alike are familiar with the town's name because of the famous Arecibo Observatory, which houses one of the world's most powerful radar-radio telescopes and the largest single-unit telescope. The Observatory was prominently featured in the James Bond film GoldenEye.
Also found in Arecibo's Barrio Islote is Cueva del Indio, which has cave paintings made by prehistoric Indians. The Cambalache Forest Reserve has plantations for eucalyptus, teak and mahoe trees.
Last but certainly not least is Arecibo's lighthouse, which has of a small museum with scale replicas of Columbus' ships, the Niña, the Pinta and the Santa Maria.
---