The Arbat (a prime area) is perhaps the most delightful street in Moscow. A traffic-free street lined with cafes frequented by well-off intellectuals, the Arbat retains hints of its bohemian past. It is also an artsy zone, with many stalls selling Russian crafts, street artists selling their works, and street performers providing a variety of entertainment.

There are numerous restaurants and bars here as well as cafes, offering varied international cuisines. One of the most famous establishments is Prague Restaurant, which dates back to the 19th century and has long held a reputation as one of Moscow's best restaurants.
As the Arbat was frequented by literary and artistic types in the past, there are sites that were visited by great names like Tolstoy, Pushkin, and Chekhov. Some of the houses here were once home to these luminaries and other famous Russians.
Kropotkinskaya Area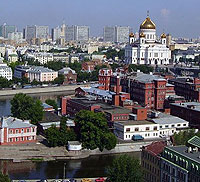 Arbat's Kropotkinskaya area has a beautiful view of the large, white-and-gold Christ the Savior Cathedral. Many old, pre-Revolution housing can be found here, and many of them have been renovated for current use. There are also some examples of elegant Art Nouveau architecture. It is one of Moscow's most desirable addresses. Several embassies are located here. Nearby are the Pushkin Art Museum and the Galina Vishnevskaya Opera Center. The area near the river and Ostozhenka and Prechistenka streets is called the Golden Mile, as many new upmarket residential complexes have gone up here.  
Despite its proximity to some of Moscow's busiest streets, Kropotkinskaya is a quiet residential area.
---