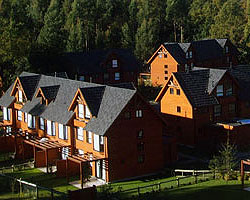 This region is home to the Mapuches, the indigenous people who successfully resisted Inca and Spanish domination over the centuries. With its amazing green landscape bursting with lush forests, Araucanía is a rich agricultural region. It has a beautiful natural environment and a pleasant Mediterranean-influenced climate and excellent infrastructure.

The region is divided into two provinces, Malleco and Cautín, which are further divided into 32 communes. Its capital, Temuco, is a major economic centre. Founded in 1881, it has grown into one of the most populous towns in Chile. Araucanía's other urban attractions include the traditional architecture of the towns of Pucón and Villarrica. There is a casino at the former and a national park in the latter.
Lake Villarrica, with its volcanic sand beaches, attracts plenty of tourists who enjoy watersports. Another major lake is Budi, where more than a hundred species of birds converge.
Hot springs also abound. In recent years, three new ski centres have emerged, two of which are on volcanoes.
---