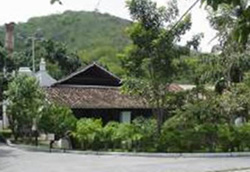 The state of Aragua has very distinctive regions. Beautiful bays dominate the rugged north facing the Caribbean Sea. The Cordillera de la Costa guards the south, where Venezuela's first national park, Henri Pittier, is located. Rolling plains and Lake Valencia are in the south.

Industrialization accounts for the high population in Aragua's low valleys. Settlements can also be found along the coasts. Aragua is the most productive agricultural region in Venezuela, leading in corn, sugar, and cotton production. Other thriving industries are textile, paper, cement and food processing, predominantly in the capital Maracay and in Victoria.
Tourism is concentrated on the coastline, especially in the beautiful beaches of Puerto Maya, Choroni, Turiamo and Cuyagua. The mountain range and thick palm groves shelter the bays of white and golden sand and inviting waters. The area has an extensive network of inns and hotels catering to tourists.
---