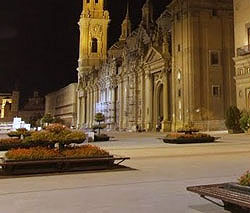 Situated in the northeast of Spain, Aragon is divided into three provinces: Huesca, Zaragoza, and Teruel. Zaragoza is the regional capital, where 71.8% of the population of Aragon lives. The northernmost region, Huesca, is in the Pyrenees and borders France.
Aragon's landscape is extremely varied, with snow-capped mountains and permanent glaciers, green valleys and farmland, and even some deserts in the south. There is plenty of open space, as the region has a very low population density, second only to Castilla La Mancha. Spain's largest river, the great River Iber (known as Ebro in Spanish), runs through this tranquil region. The highest peak of the Pyrenees, Aneto, is also found in Aragon.
Aragon has many attractions, including ski resorts in its high mountains. There's amazing scenery and unique wildlife in the Ordesa National Park. Throughout the region you will find many castles, of which Loarre Castle is the best known. There are also some Roman ruins and many charming historic towns with Romanesque churches, many of them located along the Ebro Valley.
The medieval town of Jaca is especially lovely. One of the most significant towns in Aragon, Jaca used to be the favored residence for the kings of this region. Jaca has many splendid examples of Romanesque architecture, including its 10th-century cathedral.
Another town known for its Romanesque churches is Fraga, located on the banks of the Cinca. Monzon, which also lies along the Cinca, features the Romanesque Church of Santa Maria and the castle of the Knights Templar. Babastro is yet another town with many key attractions, such as the 16th-century cathedral and the Episcopal Palace.
Aragon has many pleasant mountain villages, such as Benasque, Bielsa, and Torla. Other places of great historical or architectural interest in Aragon include Roda de Isabena, Sabiñanigo, and Ainsa.
---