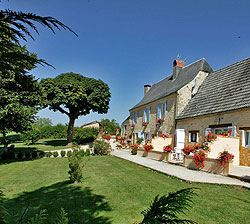 Aquitaine has a warm and sunny oceanic climate, similar to that of the Mediterranean. Summers can be very hot, especially during July and August.
The department of Dordogne inside Aquitaine is a top destination for Britons. Dordogne offers medieval castles and lovely stone villages such as Domme, La Roque Gageac, Monpazier, and Rocamadour. The Lascaux caves with their prehistoric paintings are located in Dordogne, but are closed to the public.
Another popular destination in Aquitaine is the Côte d'Argent ("Silver Coast"), an area of the Atlantic coast that stretches north-to-south from the mouth of the Gironde estuary to the river Adour near Anglet, Pyrénées-Atlantiques. Despite the attractions of this long stretch of sandy coast, the Côte d'Argent has had less tourism-related development than similar areas in Europe, and in between the occasional resort and holiday home you can still find deserted beaches.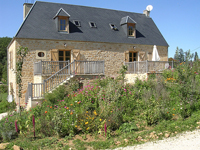 Aquitaine is a major wine-growing region, producing Bordeaux wine in the vineyards around the city of Bordeaux within the Gironde department. Southern Aquitaine offers other wine-producing districts, including Bergerac in Dordogne. The famous Armagnac brandy is also made in Aquitaine.
Bordeaux wines include both red and white; red Bordeaux is known as Claret in the UK. There are several distinct wine-growing districts around Bordeaux, including the Left Bank, known for Médoc and Margaux; the Graves, where the Sauternes dessert wine is produced; and the Right Bank, which includes the Saint-Émilion and Pomerol areas. Lillet, an aperitif wine, is produced in the town of Podensac near Bordeaux.
Many of the famous Bordeaux wine towns are scenically beautiful in their own right, particularly Saint-Émilion. In June, Bordeaux celebrates its annual Bordeaux Wine Festival, a four-day event that offers a chance to taste an impressive variety of wines from Bordeaux and the rest of Aquitaine.
Bordeaux is the regional capital. Known as the City of Art and History, Bordeaux is home to the prestigious Arc en Rêve architecture exhibition and research centre, the Opéra National de Bordeaux, and the Ballet National de Bordeaux. The Port of the Moon, its historic city centre, is a UNESCO World Heritage site acclaimed for its impressive 18th-century architectural sights, such as the Place de la Bourse and the Grand Théâtre de Bordeaux. This has made the area a popular location for film productions as well as tourists.
Bordeaux also offers numerous theaters, cinemas, museums, historic churches, and attractive shopping areas like the Rue Sainte-Catherine pedestrian boulevard.
---