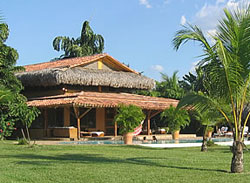 For many years the southwest border of Venezuela was engulfed in border conflicts with Colombia and received many refugees. Here can be found the state of Apure, known for cowboys who fought bravely during the War of Independence of the early 19th century. Apure still has many cowboys working in the state's large cattle ranches.

The Orinoco River runs along the eastern side of Apure. In the north flows the Apure River, a tributary of the Orinoco. Farming and fishing are the predominant activities here, with production of corn, meat, milk and cheese. There are a few industries in its capital, San Fernando.
Apure has poor drainage, so flooding can be extensive. But this does not deter the state from embracing ecotourism. There are numerous parks here but ranches are more popular places to stay. There are also camps situated along the river. Wildlife abounds in the area: freshwater pink dolphins, anacondas, piranhas, otters, alligators, capybaras, anteaters, and numerous bird species. Rare jaguars can be seen. Activities include horseback riding, fishing, picnicking, and bird watching to name a few.
Apure preserves old traditions and customs which are quite distinct in Venezuela, giving the impression that it is an isolated, faraway place. Its significant contribution to culture is in music, the most traditional of which is the Joropo. It is a musical style that is interpreted by a harmonious combination of voice, a harp and four maracas.
---