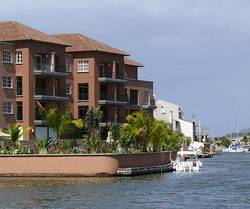 The state of Anzoátegui northeast of Venezuela lies on the Orinoco oil belt, sending the oil industry at the top of its economic activities. One of the biggest facilities for petrochemicals in Latin America, the "Complejo Petroquímico de Jose" is located here. Agriculture also helps the economy, with production of corn, peanut, root crops and fish. There is a burgeoning industry in automobile manufacturing and construction.

The state capital is Barcelona, which maintains a simple and relaxed life and values traditional customs. There are well preserved colonial architectures downtown. The city has fine beaches as it sits on a calm bay, but the more attractive tropical resorts are found in Puerto La Cruz to the east. It started as a humble beach resort and is now a lively city devoted to tourism. Modern hotels and apartments and yacht marinas have taken over the area. Colourful, elegant villas are connected by canal bridges and are accessed by motorboats.
In Puerto La Cruz, Paseo Colón is where locals and tourists congregate. Restaurants, shops, bingo halls, bars and nightclubs line the broad avenue overlooking the sea. Detached holiday homes beautifully surrounded by coconut groves and with direct access to the beach can be found here.
---