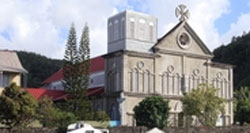 The quarter of Anse La Raye has two towns: Anse La Raye and Canaries.

Both are picturesque old fishing villages on the country's west coast. Many of the buildings are over 100 years old, and are beautiful examples of French and English colonial architecture. The wooden houses that sit at the waterfront as well as the colourful sails of the moored fishing boats add to the delightful quality of the area. The village church is the oldest in Saint Lucia.

Anse La Raye is popular with Saint Lucians and tourists alike. On "Fish Fridays", the street fronting the beach is closed to traffic, chairs and tables are set up and festive music fills the air for the end-of-the-work-week party. Fishermen pull their boats right up onto the beach next to bars and rum shops and grill up a storm with the day's freshest catch of fish and lobster. The village bakery turns out Creole bread and coconut turnovers baked in a traditional wood fire oven. Behind the village, the beautiful Anse La Raye Waterfall is a lovely sight. But if you want to cool down with a swim, go to River Rock Falls not far away. The small cascades tumble into a pool. A changing area is provided for swimmers, and a bar for those who'd rather put their feet up after a day of exploring.
---