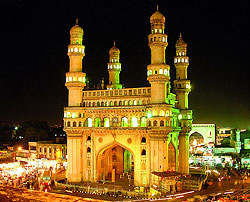 Known as the Rice Bowl of India, Andhra Pradesh is a rich state.

Andhra Pradesh has lush scenery, because of its warm sunshine, combined with a large amount of rain. Summers in Andhra Pradesh are extremely hot, until the rains start. The heat peaks April to May, reaching over 40 degrees Celsius. Then in mid-June the rains start and last till November, first the southwest monsoon, then the northeast monsoon. In December, the temperature can cool suddenly to 16 degrees Celsius.
There is glorious scenery, and golden beaches in the region of Visakhapatnam. Resorts in the Horsley Hills make for pleasant retreats. Elsewhere there are ancient forts and palaces. The state's natural wonders include Borra's million-year-old limestone caves, Ettipola's falls, and Papi Kondalu's narrow-gorge Godavari river.
Andhra Pradesh has a highly spiced cuisine, which features different types of pickles and chutneys and the regional specialty, biryani.
Last year Andhra Pradesh ranked 4th among India's top IT exporting states, and IT is expanding at around 50% every year. The service sector accounts for 43% of the state's GDP, and employs 20% of its work force.
Half India's top10 pharmaceutical companies are from Andhra Pradesh, and Hyderabad is India's bulk drug capital.
Andhra Pradesh has the world's most visited religious centre, Tirupati. There are many other famous temples and pilgrimage sites, including Simhachalam, a hill shrine devoted to Lakshmi; Srisailam, dedicated to Shiva; and Bhadrachalam, a Rama temple, and many others
Visakhapatnam has the greatest variety of tourist attractions: INS Karasura Submarine Museum and Indira Gandhi Zoological Gardens among them. Its beach road, the longest in India, offers a wonderfully scenic drive. Its Araku Valley has beautiful scenery as well.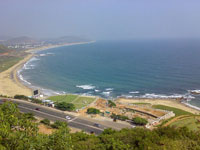 Hyderabad, the capital, is where North and South India meet, a blend of Hindu and Muslim cultures, with its Mughal and Persian-flavoured cuisine. Muslims constitute about 40% of the population. At partition in 1947, the Nizam of Hyderabad chose to join Pakistan (but was prevented by an Indian invasion).

The city has the country's second largest film industry in the country - the Telugu Film Industry, known popularly as Tollywood. Hyderabad is also a favourite venue for sports events, and a well-known conference venue.
Hyderabadis typically wear traditional Indian garb; the women especially, whatever their race or religion, go about in saris or a similar attire.
Enormous malls have recently been going up all over Hyderabad. Property prices in Hyderabad have skyrocketed in recent years. The city will probably grow even more bustling, with the construction of a high-rise business district in the Manchirevula area.
---