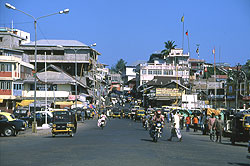 The Andaman and Nicobar islands, near Myanmar and Indonesia, have 572 islands in two groups, but only 38 have permanent inhabitants. Only nine, all in the Andamans, welcome outsiders.

The British used them as a penal colony. Some islanders descend from prisoners, but most are migrants from mainland India. There are also indigenous tribes, which live rather isolated lives.
There are beaches, colourful tropical flowers and dense mangrove swamps. In the swamps swim large saltwater crocodiles. The climate is very humid, but breezy, so the mild temperatures do not rise above 30 degrees Celsius. The rainforests have a combination of vegetation indigenous to India, Myanmar, and Malaysia.
Tourism is in its infancy, so the islands make for a quiet retreat, in a beautiful natural setting The clear waters are good for snorkeling and scuba diving with crocodiles.
Port Blair, the capital, is an important base for the Indian Navy, Coast Guard and Tri Services Command headquarters.
---