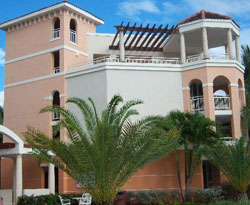 Unlike other cities in Puerto Rico whose main attractions are its beaches, Añasco also offers spectacular views of the Canta Gallo, Gordo and Pichon Mountains. Rivers such as the Rio Grande de Añasco, Huamtas, Casey, La Balase and La Mona run through the region.

The Añasco River is of particular historical significance. The Tainos drowned Spaniard Diego Salcedo in it in 1511. Having seen that the Spaniards were not the immortal gods they believed them to be, the Tainos revolted, but were eventually quelled by their conquerors.
A wonderful place to relax and enjoy the scenery is Centro Vacacional Villas de Añasco. Tourists could rent one of 32 quaint cottages that are linked by tropical trails and gardens. The resort also has a high-rise building consisting of 120 villas, all with excellent views of the region.
While in Añasco, you can also visit some of the sugarcane plantations and mills in the area and purchase the famous moonshine made from sugarcane, called Pitorro rum.
---