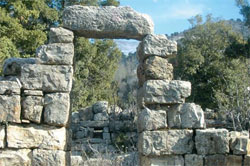 The governorate of Nabatieh is located in the mountainous region of Jabal Amel in Southern Lebanon. It is a region of great historical significance. Caves like Ushul Ghorab and Moghor Mehla with their ancient tombs date back to the Neolithic Period. Pottery, coloured beads and other relics from the time of the Phoenicians have also been discovered. Presently, archaeologists are exploring the region for the Holy Roman Road, a road travelled by Jesus on his way to Sidon from Galilee.

Another site of interest in Nabatieh is Beaufort Castle, which was built by the Crusaders. The small suburb of Al Khraibeh is a remnant of the Byzantine-Roman period.

Nabatieh is the site for annual Shiia Moslem commemorations of the Battle of Karbala and the martyrdom of Imam Al Hussein Bin Ali Bin Abi Talib.
---