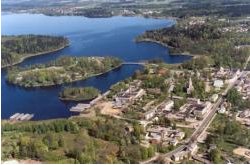 The Aluksne district is on the northeastern part of Latvia, bordering the neighbouring countries of Russia and Estonia. The district takes its name from Lake Aluksne. The main city of the district is also named Aluksne, and it is located upon the beautiful highlands of the region, alongside the tranquil lakeshore.



Aluksne City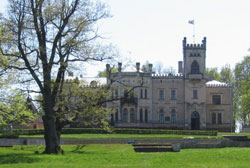 Aluksne City is a truly charming town that remains close to nature. Many picturesque country houses can be found here, often serving as guest houses for vacationers seeking a romantic and old-fashioned getaway. With the lake nearby, the city is a good spot for fishing and boating excursions. Biking and horse riding are also popular activities here.

The city has several notable attractions, including the ruins of the Livonian Order Castle. It was originally built in 1342 on Pilssala, the largest of the four islands of Lake Aluksne. Around the castle developed a settlement that was called Marienburga in medieval chronicles.
Temple Hill, an ancient castle mound near the lakeshore, also features modern monuments and structures, such as The Sun Bridge built in 1938.
The New Castle of Aluksne is no longer so new (it was constructed in the mid-1800s). The Neo-Gothic palace currently houses the Museum of Local Heritage and Art, the Museum of Nature, a Children and Youth Centre, and a cinema.
Aluksne is also known for its lovely churches, which include the St. Boniface Roman Catholic Church of Aluksne, the Aluksne Lutheran Church, and the unusual-looking Aluksne Orthodox Church, with its towers topped with tiny domes.
Aluksne City is closely associated with the Lutheran pastor and Bible translator, Ernst Glück. He established the first schools for Latvian children in the region. Glück's stepdaughter, Marta Skavronska, married Peter the Great of Russia and became the Empress Catherine I.
---