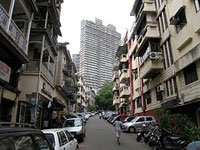 Cumballa hill is only second to Malabar hill in terms of exclusivity in South Mumbai and less than two hundred metres from the northern base of Malabar hill. Beginning at the northern foot of Cumballa hill at Pedder Road, Carmichael Road ascends as a tree lined avenue and becomes Altamount Road (prime area) after about one and a half kilometers.
Many senior corporate executives prefer Cumballa hill over Malabar hill because of easy access to both south and north via the arterial Pedder Road and proximity to shops, restaurants, Jaslok and Breach Candy hospitals, schools.
This beautiful tree-lined road with some heritage buildings has been rated as the 10th most expensive street in the world.
This stretch of road is home to the Governor of the Reserve Bank of India, Chairman of the Bombay Port Trust, Municipal Commissioner of Mumbai, business tycoons Ratan Tata, Kumaramangalam Birla, Mukesh Ambani. Of the consulates on this road the Japanese consulate is an architectural delight, while the Belgian, Chinese, Indonesian and South African consulates are in less striking buildings.
Peddar or Pedder Road, a busy arterial road, passes through the affluent Cumballa Hill neighborhood. It has been official renamed Gopalrao Deshmukh Marg, after a social reformer, but most people use its former name.
---