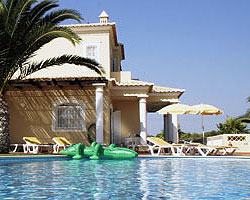 With its year-round sunshine, beautiful sandy beaches, safety and relatively low cost of living, the Algarve region is a popular holiday destination, as well as an investment property hotspot. Located in southernmost Portugal, bordered by the Atlantic to the west and south, Algarve has Europe's least polluted climate. There are about a hundred beaches drawing many British, Irish, Dutch, and German tourists, many of whom buy property and build summer homes or settle. Proof of its cosmopolitan appeal is the number of Algarve-based English-language newspapers for the expat community. There are several excellent international schools.

Among the most popular beach resorts are the Praia da Luz, Armacaeo de Pera, and the glorious Praia da Marinha in Lagoa, lauded as one of the 100 most beautiful and well-preserved beaches in the world. The spa town of Caldas de Monchique is also a top destination. Exploring the coastline with its grottoes and limestone caves is easily done by powerboat. The Algarve has taken advantage of its warm and dry weather and invested and world-class golf courses.
Algarve also has a plethora of bars, restaurants, cafes, marinas, and casinos. The festive atmosphere reaches its climax in the region's capital, Faro City. Sun-worshippers throw parties all year round by the beach, the most famous of which are the pristine waters of the Praia de Faro-Mar. Faro is also a great destination during the winter, when its charm as an old colonial town of Moorish origin holds centre stage. There are cobbled streets with whitewashed buildings, and a well-preserved city centre circled by ancient Roman walls. The city is an easy entry point to the rest of Algarve's beach towns, and has modern amenities like the international Faro airport, a seaport, a marina, a railroad station, and interregional bus services. There is also the public University of the Algarve, and one of Europe's largest shopping centres, the Forum Algarve. Located close to Faro is the Ria Formosa lagoon, a large nature reserve popular with ornithology enthusiasts during the spring and autumn.

---