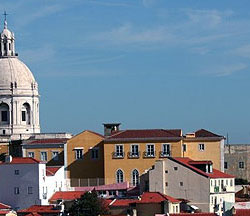 The atmospheric, medieval alleys of Alfama are the oldest in Lisbon, as it is the oldest surviving district in the city. Its eastern vibe is due to the Muslims who settled here; the name Alfama was taken from the Arabic word "al-hamma" for hot springs.

The Moorish settlers created a web of alleys that served the dual purpose of defence and keeping homes cool in the summer. The best way to fully experience the district is to get lost in its confusing maze of little shops, old homes, churches, converted boutique hotels, and perches from which to admire a panoramic view of the city during sunset. After dining in one of the many restaurants on the trendy modern waterfront across the train station, you can party all night at one of Portugal's premier clubs, Lux.

There is a sense of community here, as many older residents have lived here their entire lives. Their rent-controlled homes have usually fallen into disrepair, although the area has attracted a number of wealthier residents who are currently developing investment properties here. Many of the homes here are small and modest, crowding with each other under the shadow of Alfama's medieval castle and its many churches. Renters can find studios and one-bedroom apartments in the many old buildings. Great for bohemians, their quirky layouts and homey atmosphere are quite comfortable, although there isn't really much privacy.
---