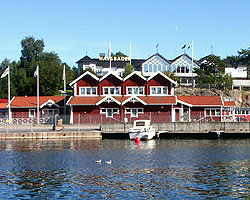 The Aland Islands is a small archipelago in the Baltic Sea off the coast of Finland. It is a demilitarised, self-governing region with its own parliament, and enjoys a special tax status under the European Union.

Culturally, the alanders are more closely related to Sweden than to Finland. The islands were once Swedish territory, and aland is a monolingually Swedish-speaking province (the signs are in Swedish rather than Finnish). However, alanders generally do not think of themselves as either Finnish or Swedish and are proud of their independence.

The archipelago consists of 80 inhabited islands and thousands of uninhabited islands and skerries. The total aland population numbers around 26,200, with most living on the largest island, Fasta aland. Forty percent of the total population lives in the only city, Mariehamn.
aland has a milder climate than continental Finland. It enjoys a relatively short period of snow cover in winter, and many long days of sunshine in summer.
Mariehamn
Mariehamn is the capital of aland, a quiet, sleepy town, founded in 1861 when aland and Finland were still part of the Russian empire and named after the Empress Maria Alexandrovna. It has two harbours. The western one, the Västerhamn, is an important international port, where ferries pass daily on their way to Finland or Sweden. Anchored at the harbour is the Pommern, a four-masted barque that may be the only ship of its kind kept preserved in its original condition as an early-20th century cargo ship, or windjammer.
The harbour area where the Pommern can be viewed is part of Mariehamn's attractive Maritime Quarter, where the visitor can see such activities as boat-building, smithing and traditional handicrafting, and find a ship-building museum and a café. There's a small marina where traditional wooden boats and small ships are docked.
The celebrated Finnish architect Lars Sonck designed several buildings in Mariehamn. These include the Church of Mariehamn, the main building of aland Maritime College, and the Mariehamn Town Hall.
---