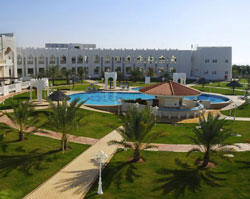 Formerly known as the Western Region, Al Gharbia occupyies 83% of Abu Dhabi's land space and almost three-fourths of the entire UAE. Yet it has only 120,000 inhabitants—and there are actually more Emiratis than expats, especially in the region's capital city, Madinat Zayed. It has the emirate's richest onshore oil and gas wells, and the UAE's biggest oil refinery.
Al Gharbia shares the world's biggest sand desert, the Empty Quarter, with its neighbours Oman, Saudi Arabia, Qatar, and Yemen. The Empty Quarter is as big as France, Holland and Belgium combined.
About 240,000 acres of Al Gharbia have been planted with trees, including 20 million evergreens. Travelling through this verdant sector, you could forget that this is the emirate's most arid region.
The world's largest camel festival is held at Madinat Zayed—and includes a beauty pageant for camels!
Aside from the Liwa oasis near the Empty Quarter, other tourist destinations in Al Gharbia are Mirfa, a natural harbour by the sea, the island of Dalma with its numerous archaeological sites, and the island of Sir Bani Yas, formerly the private enclave of the emirate's ruling family.
Sir Bani Yas Island
A bird haven and wildlife park surrounded by plentiful mangroves, Sir Bani Yas abounds with local gazelles, or dhabi (after which the emirate was named), oryx, and more exotic animals like emu.
Stone Age relics have been discovered on the island, which was once connected to the mainland and which got its name from the tribe who settled there. The emirate's current ruling family, the Al Nahyans, are descendants of the Bani Yas people.
Wind power is being used to meet 2% of the island's electricity, especially for the water pumps for irrigation, and for Desert Islands Resort, the only luxury accommodation on the island.
---