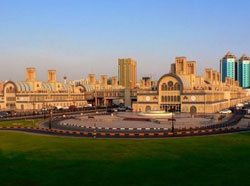 Ajman is the UAE's smallest member, making up only 0.3% of the federation's entire land area. It is half an hour away from the international airports of Dubai and Sharjah, although its own international airport is expected to open in a few years. It has its own small port, which serves about a thousand vessels annually. Beside the port is the Ajman Free Zone, occupied by mostly industrial enterprises. The emirate contributes 10% to the UAE's total industrial output.
The seaside emirate is also home to the UAE's biggest boat yard, where boat-makers use traditional manual techniques to make dhows, traditional Arabian sailing vessels. Dhows, with one or two lateens or triangular sails, are used in the UAE not just for modern shipping needs, but also for tourism purposes. Ajman's dhows enjoy an excellent reputation in the region. Ajman is also at the forefront of building contemporary boats and luxury water craft, including speedboats used in neighbouring Dubai's speedboat races.
The capital of the emirate is Ajman City. Other places of interest in Ajman are the archaeological site of Mowaihat outside the city and the villages of Masfut, on the western edge of Hajar mountains, and Manama, in the interior on the road from Sharjah to Fujairah.
Ajman City
The emirate's capital, Ajman City, has a few historical landmarks, notably the Ajman Fort in the centre of the city. Due to its cosy size and middle-class atmosphere, Ajman is a popular weekend destination for residents and expats from nearby emirates, with Dubai being less than half an hour's drive away by the Emirates Road (the main network that links all seven emirates). Visitors come mostly for the white sand beaches, and for a leisurely taste of Arabic charms minus the high-rises.
Rent is highly affordable here compared to the rent in the bigger and more urbanized emirates. Most residential buildings in the capital are apartment complexes rather than villas, while the less developed coastal villages offer old villas for rent.
This will change, as Ajman has caught the development fever. The real estate sector has been primarily invigorated by the Emirates Road cutting through it. The Emirates Road is used as the main reference point by most construction projects for residential and commercial buildings, such as Emirates City and Marmooka City. It has been estimated that around one-third of the modern residential projects here are owned by foreigners.
The local government is pumping more dirhams into improving Ajman's infrastructure, such as expanding its road network, increasing water supply and setting up power plants. It is currently building the UAE's first coal-fired power plant. The emirate's major effort to urbanize its emirate is focused on the Al Zorah "supercity" development on the northern coast, which costs about US$60 billion and entails land reclamation that will create a crescent-shaped bay with small islands.
---