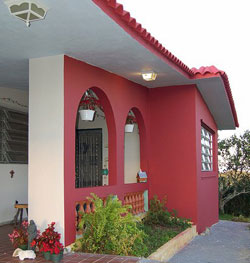 Locals of the town of Aibonito love to tell the story of the travelling Spaniard who fell asleep and woke up on the Asomante Mountain. Awed by the beauty of his surroundings, he exclaimed, "Ay, que bonito!" His exclamation became the name of this beautiful mountain town.

There is a reason why Aibonito is a flower paradise. Its high altitude and cool climate – with nighttime temperatures sometimes dropping to a very cold 40 degrees – is conducive to the cultivation of flowering plants. These conditions have earned Aibonito the nicknames "City of Flowers" and "the Icebox of Puerto Rico".

Every year since 1969, Aibonito has celebrated the Festival de las Flores over two weekends—the last weekend of June and the first weekend of July. Flower shows, a carnival for children, a market for handicrafts and other souvenirs, music and food draw visitors from all over Puerto Rico to the town.
Aibonito is also one of the top producers of poultry products in Puerto Rico, and even holds a Poultry Festival, where tasty chicken dishes are served to attendees.
---