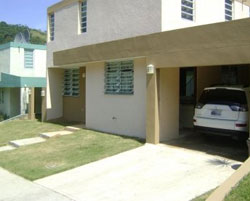 The town of Aguas Buenas is aptly named for the purity of its fresh water springs. While largely agricultural, the town is particularly famous for its hand-crafted musical instruments.

Aguas Buenas offers a quite a few places and events of interest to tourists. The town's Plaza de Recreo was once used to conduct military exercises. In front of it is Iglesia Los Tres Santos Reyes. The Centro Recreacional La Charca has a pool, picnic area, garden and playgrounds.
Three natural attractions in the region are Paseo Mirador, from which one could view the Coliseo Multiusos Samuel Rodriguez and the Parque Manolo Fontanez; the Monte Molitas Tiza, whose light colouring is caused by high concentrations of calcium carbonate; and Las Cuevas de Aguas Buenas, which has a diverse ecosystem and prehistoric cave drawings.
Every year, Aguas Buenas holds the Festival de la Buruquena where small crabs are cooked and served in a variety of sumptuous dishes. Musicians from all over the island show off their talents at the yearly Salsa, Bomba and Plena Festival.
---