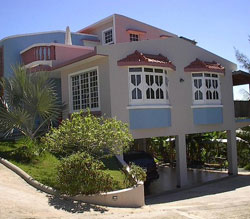 The progressive city of Aguada is located on the northwestern part of Puerto Rico, around five minutes from Aguadilla and 20 minutes from Mayaguez. It has been contended that Aguada was the site of Columbus' historic landing in 1493, but no historical proof has been presented to authenticate this claim. During the Spanish rule, Aguada was an important port for mail ships from Spain heading for and out of Venezuela and other South American countries, thus contributing to the city's economic progress.

While not considered its main tourist attractions, Aguada has a few beaches with seafood restaurants near the water. A number of key rivers also flow into Aguada, including Rio Grande, Rio Celebra, Rio Celebrinas and Rio Cañas.
One landmark of interest is the Museo de Aguada, which boasts a variety of Taino and colonial Taino artefacts. One is the Rock of Chastity—legend has it that the Taino elders use the rock to determine the state of chastity of teenage boys. Every full moon, the boys lay their penises on the stone. Those upon whom the moon cast its light are beaten by their elders as punishment for indulging in sexual acts at an early age.
Another landmark of historical interest is the ruins of Ermita Espinar, a chapel built by the Franciscan Order in 1525. It was later destroyed in 1529 by the Caribe Indians, who also massacred the poor priests.
---