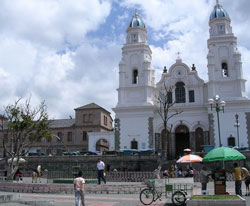 Aeropuerto is a mixed agricultural and industrial zone, with some residential neighbourhoods. Fruits, vegetables and flowers are grown here.

Key residential areas in Aeropuerto include the neighbourhoods of Aeropuerto, Puembo, Pifo, Guayllabamba, El Quinche, Tababela and Yaruquí.




Checa
The relatively young civil parish of Checa is an industrial area with an agricultural and flower cultivation zone. Like with almost every Ecuadorian parish, its church and town square merit a quick visit.
Puembo
Agriculture and livestock, particularly poultry farming, flower-growing and cultivation of fruits and vegetables, drive Puembo's local economy.
Puembo's church possesses works from the Quito School, such as the images of the Sacred Heart of Jesus and the Virgin of the Wall. Puembo's church is one of the oldest in the country. The parish also has a recreational park with an old mill and the Chaquiñán Nature Trail. People also enjoy walks along the banks of the Guambi and Chiche rivers.
Pifo
The name of the rural parish of Pifo means "a place of abundant water". It is a mainly agricultural region, whose economy relies heavily on the cultivation and production of strawberries, lemons, apples, tomatoes, broccoli, and flowers. The region has a self-sustaining economy through global trade.
Guayllabamba
Flowers, fruits and vegetables are Guayllabamba's main products: avocados, blackberries, custard apples, lemons, watermelon, tomatoes, kidney beans, peppers, roses and summer flowers such as gypsophila.
The Zoológico de Guayllabamba holds the country's largest collection of fauna endemic to the country.
El Quinche
Known as the "City of the Virgin," El Quinche's economy thrives on agribusiness and tourism. The high point of the year is the Pilgrimage to the Virgin of the Wall, held every November. The Sanctuary of the Virgin of the Wall is one of the most important religious centres in the Ecuadorian highlands. The National Shrine of Our Lady of the Presentation can also be found in El Quinche.
Tababela
Tababela's name means "beautiful board" in Spanish, though the nickname was originally given in French by the Geodesic Mission that arrived in Ecuador to examine and mark the equatorial line.
Industrial and agricultural Tababela is busy with food production and textile, metallurgical, cement, wood, and arcillas industries. Tababela's attractions include El Higarón, a nice place to go camping in. But its most notable landmark is the pyramid at Caraburo, which was erected by the French geodesic team when they were establishing and measuring the equatorial line.
Yaruqui
This parish was named after the last Shyri princess Maria Yaruquí, who reputedly lived a life of holiness until her death in 1700. This place is where measurements of the equator were taken; the French team led by La Condamine erected a pyramid in Oyambaro to mark the baseline they made. This established the equatorial line.
---