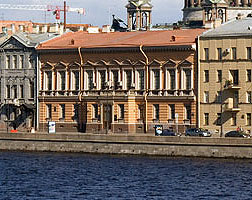 Part of the historic centre of St Petersburg, some expensive investment properties can be found in Admiralteysky District (prime area), especially in its most prestigious area, home to the district's cultural treasures. Reconstructed old houses can be found near St Isaac's Cathedral, the Admiralty and Nicholas Cathedral, and the Mariinsky Theatre. The prices of these homes are equal to those of apartments in St Petersburg's Golden Triangle.

The quality of housing in this district varies greatly, from luxury apartments to ramshackle communal flats. There are more communal apartments here than anywhere else in St Petersburg, but many residents have been resettling lately. Many luxury apartments are available, and there are as many upscale homes, as rundown apartment blocks.

The Admiralty began life as a shipyard, and the past is reflected in the city's street names, such as the exclusive areas of the Big and Small Sea Streets. Other high-end residential areas in the city are those overlooking Decembrist's Square and near Alexander Garden and St. Isaac's Cathedral.

Houses overlooking the Theater Square, Konnogvardeysky Boulevard, Yusupov Garden, Nicholas Square, and Izmailovsky Cathedral, apartments with a view of Pionerskuyu Square Garden and houses on the western embankment of the Fontanka River are less prestigious, but not really any less costly. Apartments on the English Embankment of the Lieutenant Schmidt Bridge by the mouth of the Admiralty are somewhat cheaper.

Generally, the farther south from the historic area, the cheaper and less exclusive the residential areas. The south is occupied by an industrial zone and two Metros. The neighbourhoods along Riga Avenue, Kurlyandskoy Street embankment bypass, Vitebsk and Pskov Streets, and the locks, are much cheaper and greatly in demand. But these parts of the district are not very conveniently situated, being quite far from the centre and the Metros.

Ninety percent of the housing here was built before 1917. Very few homes built during the Stalinist area can be found. New construction is slow because of the many existing buildings, many of them protected sites. Among the modern structures are shopping centres and entertainment centres.

The main cause of pollution here is not industry, production having fallen in recent years, but actually traffic. Street congestion is a problem, as in other central areas of St Petersburg. There are often traffic jams on the main thoroughfares like the Moscow Prospekt, Fontanka River Embankment, and Sadovaya Street, especially during peak periods. Parking space is lacking as well.

Many offices and commercial establishments can be found in this district. It also has plenty of cafes and restaurants.
---