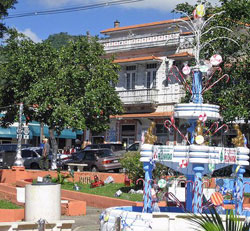 The mountainside municipality of Adjuntas is nicknamed "The Switzerland of Puerto Rico" for its chilly weather. Because of the cool temperature, Puerto Ricans from the lowlands troop to Adjuntas during the warm, humid summer months. The town is also called by the name "The City of the Sleeping Giant" because the nearby mountain chain Gigante Dormido resembles a sleeping giant.

Much of Adjuntas' economy is centred on tourism and agriculture—in particular, the cultivation of coffee, bananas, oranges and peaches.

The town is home to Bosque del Pueblo. Efforts have been made by the government and residents to preserve the forest following considerable damage from copper mining operations. Special permits must now be obtained in order to explore it. On the other hand, Guilarte Forest offers hiking trails and cabins and huts equipped with special grills for campers.
In the town proper, much of the cultural and ecological concerns are being addressed in the historic building of Casa Pueblo. A local museum and cultural institution, Casa Pueblo was founded by a group of local activists who successfully brought to a halt and limited the copper mining industry that wrought havoc upon Adjuntas' natural resources. Next to Casa Pueblo is a butterfly garden and the Museo de Cultura y Turismo, which displays old documents and implements used by the early settlers.
---