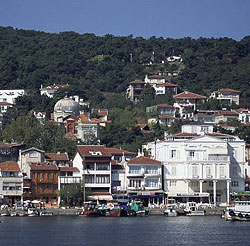 The Adalar District is a chain of nine islands in the Sea of Marmara, just a few miles off the coast of Istanbul. These—Büyükada, Heybeliada Burgazada, Kınalıada, Sedef Adası, Yassıada, Sivriada, Kaşık Adası, and Tavşanadası—are often referred to as the Princes' Islands, mainly because many Ottoman royals were exiled there during the Byzantine period.

Today, the district's name is appropriate because the islands are a haven for the well-off—posh beaches and resorts, elegant cafés and restaurants, beautiful homes that range from modern houses to well-preserved Victorian-era cottages.
Though most of the district's population are Turks, there are still a few Greek, Jewish, and Armenian communities in the islands. Interestingly, there is no traffic here—and the only modes of transportation on these islands are horse-drawn carriages and carts.
Buyukada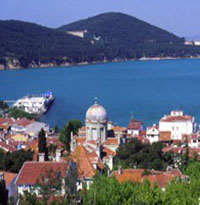 The largest island in the Princes Island group in the Marmara Sea is Büyükada, well-loved for its tranquil beauty, historic sites and unhurried lifestyle.

Elegant 19th century wooden mansions, once the holiday villas of rich Armenian and Greek bankers, are places of the interest on this island where Islam did not quite take root. Lovely gardens and pine trees flourish amid hotels, restaurants, shops, and tea houses. Motorized vehicles are not allowed on the islands; instead, locals and visitors walk or ride bikes, donkeys, or horse-drawn carriages along the cobblestoned streets and the steep paths leading to the hills.
The island's two hills are dominated by monasteries—the 12th century St George occupying the southern hill, Yule Tepe, and a 19th century monastery on the northern hill, İsa Tepe.
Büyükada was the place of exile for the Byzantine empress Irene of Athens, and the Russian revolutionary Leon Trotsky.
Heybeliada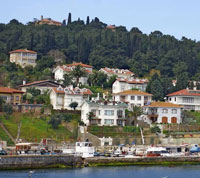 Heybeliada is one of the Princes' Islands in the Marmara Sea, just a short ferry ride from Istanbul and a popular destination for its nostalgic charm and unspoilt natural beauty.

Elegant, 19th century wooden mansions sprawl along the island's main street. Motorized transport, excluding service vehicles, is not allowed here. Locals and tourists get around the island on foot, or on bikes, donkeys or horse-drawn carriages.
 
Along the island's pebbled beaches and small coves are two beach clubs with bars, cafés and restaurants, tea houses, a water sports club, and a marina for yachts. Tourists to Heybeliada stay in summer cottages and apartments.
Some of Heybeliada's interesting landmarks include the Naval Academy on the waterfront and the hilltop Greek Orthodox School of Theology, which preserves important Byzantine manuscripts.
---