Abu Dhabi is always compared to its flashy neighbour, because of the publicity generated by Dubai's staggeringly ambitious real estate projects. Despite its modern infrastructure and its own construction projects, Abu Dhabi is more serene and laid-back.

Fifty years ago, the people of Abu Dhabi lived mainly off fishing, its once-flourishing natural pearl industry slowly dying out.

And then in 1958, after 30 years of exploration, oil was sighted in Das Island, commercial production began in 1962, and the emirate's fortunes changed. Soon the mud huts gave way to low-rise concrete buildings, and the city became the capital of the UAE when its ruling leader, Sheik Zayed, became the first president of the federation. Because it did not nationalize its oil companies, unlike its neighbours, the UAE has had a slowly growing expat community largely connected with the oil and gas industries.
The emirate is a group of 200 islands, although 70% is pure desert, including its Empty Quarter, the huge ocean of sand dunes near the Oman and Saudi Arabia borders.
Yet the emirate is also lusciously green, as an ambitious agricultural program has Abu Dhabi using most of its open land for all types of plants, from flowering shrubs to traditional date palms and ornamental greens. Throughout the emirate, about 130 million trees have been planted. The emirate even has a forestry department.
That's because the emirate is diversifying its economy. Abu Dhabi has chosen to invest in alternative energy resources and energy-efficient buildings, pouring $15 billion into green joint ventures and creating an experimental "zero carbon footprint" township. Its tough, environment-friendly building code applies both to existing and future infrastructure. It has tasked the Massachusetts Institute of Technology to set up a graduate institute for renewable energy.
Abu Dhabi also aims to become a global culture capital, transforming its Al-Zaadiyat Island into an oasis for art lovers. In a few years the island will unveil the Louvre's only branch outside France, and the largest offshoot of the Guggenheim. On the same island, a stunning performing arts centre is also being built.
As the UAE's biggest and wealthiest, Abu Dhabi hosts the federation's capital city. Its nationals enjoy an enviable standard of living, with free education, housing and healthcare. Abu Dhabi has oil reserves good for a century more, equivalent to 9% of the total global supply.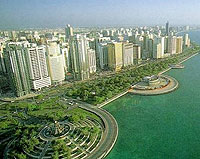 There are very few limitations on non-Muslims. Alcohol is served only in hotels, and its purchase requires a permit. Pork is available in supermarkets, along with a wide range of imported products sold side by side with camel milk and locally grown dates.
Everyone speaks English, although knowing a smattering of Arabic would help, especially outside the city. Arabic signs and menus carry English translations.
Taxis are the main form of public transportation. Almost everyone drives their own cars, which are very affordable here. However, a light rail system is being set up, initially between the city and the airport, eventually to expand to other areas of the emirate and into Dubai.
Abu Dhabi offers a family-friendly environment, with excellent schools and easily available house help. With only 20% of the population made up of locals, the emirate is filled with expatriates mostly from Asia, Europe (especially Britain), and Africa, plus some North Americans and Australians, enjoying the tax-free income and zero crime rate.
Tourism is being promoted, especially moneyed visitors who can afford the six-star Emirates Palace, where the cheapest room costs $800.
Yet despite its cosmopolitan atmosphere, Abu Dhabi's heart remains Arabic. Ornate mosques grace the emirate's skyline with lofty minarets and large domes. Souks sell gold jewellery, lovely carpets and tacky souvenir items. Traditional coffee houses serve strong Arabic coffee, and street vendors sell shawarma and fresh fruit juice.
Nature lovers have their reasons for enjoying Abu Dhabi, which is always sunny and is blessed with beaches, desert, palm trees, mountains, wetlands and oases. The hottest months in Abu Dhabi are from May to September, and those who can usually escape the place during July and August when humidity can reach over 90%.
Sports enthusiasts can go sailing and scuba diving in the Persian Gulf, or try the emirate's first-class golf courses and exciting desert safaris. Thirty minutes away from the city on Yas Island is a Formula One racetrack that opened in late 2008.
The emirate's most attractive natural areas are outside the city: the southern Liwa Oasis and villages near the Empty Quarter and the Saudi Arabian border; the Eastern Region's desert mountains and river or wadi canyons; and Sir Bani Yas Island, where there is an ongoing conservation program for its native flora and fauna, including the Arabian gazelle, or dhabi ("Abu Dhabi" means "Father of the Gazelle").
---