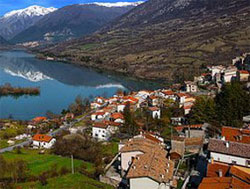 Just seventy miles east of Rome lies this mountainous region that boasts of great natural beauty. With four national parks and a traditional lifestyle, Abruzzo makes for a peaceful retreat. With flocks of sheep dotting the mountainside, grazing in the vibrant, flower-filled meadows, the favored cuisine here consists of lamb dishes and sheep's milk cheeses like Pecorino. Olive oil, wine, sausages, pasta, and cheese are made the traditional way, by hand.

The old forests are home to wolves, lynxes and bears. In the east are sprawling sandy beaches. The little-visited towns in the hills are interesting, with Chieti being particularly historic and Pescara quite modern and providing all the needed conveniences and entertainment. L'Aquila, Abruzzo's foremost city and administrative centre, is a lovely mountainside town.
Remote and quiet, Abruzzo has a small population and is little visited by tourists. Real estate prices here are therefore quite low.
---