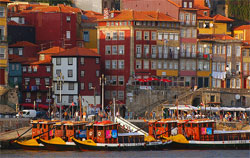 In the glorious days of the Age of Exploration, it was said that the sun never set on the splendour of Portugal. Its might was rivalled only by that of neighbouring Spain. Though Portugal has long since shed its empire, traces of the opulence brought by centuries of boundless wealth from the New World remain. The mystique of this country on the Iberian Peninsula continues to beckon visitors and travellers the world over, clear, piercing, and dramatic as a fado melody.

With its long Atlantic coastline, Portugal has some of the most picturesque and vibrant beaches in Europe. The archipelagos of the Azores and Madeira are also part of Portugal. If you enjoy the warmth of the sun, the spring and summer months are a delightful time to soak it up on the stunning coastline of the Algarve, where Portugal's most popular beaches are. The weather is mostly windy and rainy during the autumn and winter, although the sun still manages to make appearances. In the mountainous northern regions (Serra de Estrela in particular), snow is common, although bitterly cold winters do not last very long.
Portugal joined the European Union in 1986, and was one of the founding countries of the Euro in 1999. Since then, the government has implemented reforms and privatised many state-controlled firms to steer the country to modernization, and the healthy level of development it currently enjoys.
Thanks to its sunny days, the beauty of its natural areas and the old grandeur of its cities, Portugal has long been a top overseas property destination for other Europeans, especially the British. While the national economy is not Europe's strongest and is even a little unsteady at the moment, the Algarve region is a major investment property hotspot. Golf enthusiasts are especially drawn to the Algarve as one of the best golfing regions in the world, and buyers have recently been drawn to the Silver Coast with its scenic fishing villages. Up north, the Atlantic coastlines in the Green Coast region have the best-value property in the country. Of course, the capital city of Lisbon also has a thriving property market catering to all budgets and aesthetic tastes, if you prefer to live in an urban centre.
---