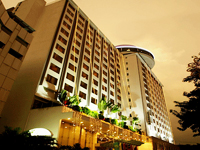 Penang State consists of two halves, separated by a narrow channel: the mainland Seberang Perai (Province Wellesley), and hilly Penang Island, home to Georgetown, a small historic city with hybrid colonial-Chinese architecture. The two are linked by land bridges and ferries.

Under the British, Penang was a duty-free port, and became an important trade centre for spices, tea, textiles, rubber and tin. Once a swampy and uninhabited island, it gradually attracted settlers from the other Malay islands and from Thailand, Burma, China, India and Europe, including a small group of Germans. Penang also had a significant number of Armenians and Jews.
The state gained independence from the British in 1957, joined the Malaysian Federation in 1963, and remained a free port until 1969.
Although Penang is Malaysia's second smallest state, in terms of economic power it's the third biggest after Selangor and Johor. Its main economic activity is still manufacturing, particularly in electronics. Other industries powering the Penang economy are agriculture, finance, tourism and shipping.
Penang's capital, Georgetown, is a UN World Heritage Site, filled with 18th century colonial buildings. Its architecture, locals and cuisine are an interesting mix of Eastern and Western influences. Major conservation efforts are underway to protect Penang's most important historical and cultural contributions.
The majority of Penang's locals are Chinese Malaysians, making Penang the only state where Malays are the minority. Known as the Peranakan or the Baba Nyonya, the Chinese-Malay have their own dialect. Penang Hokkien, Mandarin and Cantonese are also spoken in Penang, and English is widely used, especially in schools and offices.
More and more expatriates retire to Penang, drawn by its gentle, laid-back yet cosmopolitan atmosphere. It is actively promoted by the Malaysian government. The weather is mostly sunny, with daily temperatures averaging from 24�C in the evening, to 33�C in the daytime (around 75�F and 85�F).
Most expat retirees are British and Japanese. Most real estate projects focus on high-end condominiums and residential neighbourhoods, especially in the northern coastal area of Batu Ferringhi, which has an abundance of tourist resorts along its beaches, as well as the prime areas near Georgetown: the small suburb of Pulau Tikus and its seafront esplanade Gurney Drive, with its hotels, restaurants and bars, the Gurney Plaza mall, and the nearby food stalls, markets and shopping centres of Burmah Road and Bangkok Lane.
The state hosts the annual International Dragon Boat Festival, which attracts rowing teams from all over the world. It has three large sports stadiums and several facilities for golf, tennis, squash, horse riding, scuba diving, snorkelling and windsurfing.
---