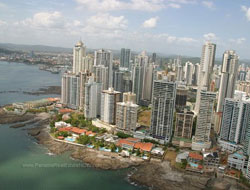 Punta Paitilla is for those who crave life by the sea. Centrally located in downtown Panama City, Punta Paitilla offers upscale oceanfront living, with its many luminous skyscrapers with views of the Bay of Panama.

This is one of the city's most high-end neighbourhoods, and is the address of two former Panamanian presidents. Its shiny condominium buildings are complemented by seaside parks, giving its residents a place to unwind.
Punta Paitilla has some unique features. It has a synagogue that caters to the area's large Jewish population. It also boasts a large Kosher Deli.
This neighbourhood is also quite accessible to the thriving commercial district, including the Multi-Plex and the Multi-Centro malls.
However bottleneck traffic is quite a problem. Seawater pollution is also a serious issue, but the government is planning to install two sewage treatment plants to remedy this.
---