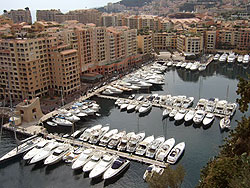 People come to Monaco for many reasons.

They come for the gambling—the Grand Casino is one of the world's iconic gaming houses and was the inspiration for the one in the first James Bond novel, Casino Royale. They come for the Monaco Grand Prix, where Formula One cars zip through the principality's small streets, past the yacht-filled harbour, into and out of tunnels and around tight corners. They come to ogle the glamorous Grimaldis, who have ruled the principality for centuries and whose current generation has been blessed with some of the star quality of the beloved Princess Grace.
They come for the sun, the sea and the sand. Monaco is surrounded on three sides by France and on one side by the shimmering Mediterranean Sea—as part of the Côte d'Azur, it shares the same glorious coastline and 300 days of sun every year as the French Riviera that flanks it on both sides.
They come here because it is a tax haven, a financial refuge for the wealthy, from financiers to world-class athletes. Monaco has no personal income tax.
They come to Monaco because everyone does. Living in Monaco is an international affair. About 125 nationalities are represented in its population of 32,000, the largest group being the French. This means that the Monegasques are a minority in their own country! When the tourists converge on Monaco during peak season, the number of people in the tiny principality goes up by more than 700%. Monaco is not a member of the European Union, but because of its close ties with France, there are no border formalities between the two countries.
People come to Monaco for the security: The principality has one of the world's lowest crime rates, and it goes to great lengths to ensure the safety of its wealthy residents and visitors. There is one policeman for every 73 people—in comparison, the UK has one policeman for every 500 people—and CCTV cameras are everywhere.
Monaco also has 10 state-operated schools, an international school, two private schools and a university. Education in the arts is greatly supported here, with the presence of such establishments as the Rainier III Academy of Music and the Academy of Classical Dance. The fact that the principality can also boast about its centres of learning—its splendid Oceanographic Museum had Jacques Cousteau as its director for years—is often overlooked by its flashier attractions.
Monaco has all of these despite its size. A little less than 2 square kilometres in area, it is the second smallest country in the world after the Vatican City. It won't take you an hour to walk from one end to the other. Monaco is relatively easy to maneuver around in, so the headache of finding anything and getting anywhere is not a problem.
---