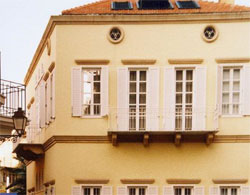 In the southeastern periphery of Centre Ville, the upscale residential neighbourhood of Saifi (a prime area) is characterized by its French-colonial style buildings and houses painted in pretty pastel colours along cobblestone streets. Residences have Mediterranean pitched roofs, arcaded windows, and simple decorative ornamentation.

Saifi saw the destructive brunt of the Civil War because the village straddled the infamous Green Line, which divided the city between Christian East Beirut and Muslim West Beirut. Completely destroyed during the war, the neighbourhood has since been rebuilt in a New Urbanist style with its many apartment buildings, townhouses and shops and restored many of its historic buildings.
Saifi is more popularly known as Le Quartier des Arts, because of its art galleries, antiques, artisan shops, and specialty boutiques. It also has its own bazaar, Souk el Tayeb, where farmers sell fresh organic produce every Saturday morning.
---