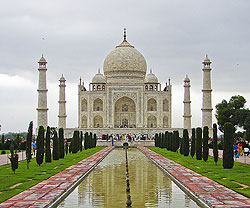 Home to one of the world's oldest, richest, and most diverse cultures, India is known for such architectural gems as the stunning white-marble Taj Mahal, the famously ornate temples in the south, but one could also cite Sikh, Jain and Buddhist temples, the colonial architecture of Delhi and Calcutta, the forts of Rajasthan, and the fascinating chaos of India's cities, from Mumbai to Varanasi to Calcutta.

Yet India is also modernizing-and at breakneck speed. Once stuck with an economic growth rate lower than any other country outside those in sub-Saharan Africa, India is now considered one of the rising economic powers in the information technology-driven global age.
India's geographical variety is unsurprisingly enormous, given its size. While the north is made up of the foothills to the Himalayas, the south has jungles, deserts, beaches, and a tropical climate. Yet while it is true to say that India's landscape is varied, the vast Deccan plateau in the south is physically monotonous, a relatively unvarying landscape stretching out over hundreds of kilometers.
Modern-day India is a blend of old and new. Age-old traditions and religions have hardly changed. Colorful saris and dhotis are still worn everyday. The various colorful tribes of the northeast especially maintain traditional ways of life.
---