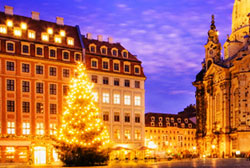 Germany offers an immense variety of natural, historic and cultural attractions. It is a wealthy nation and Europe's second most populous, an economic and export powerhouse with a long tradition of technological leadership.

Since the fall of the Berlin Wall in 1986 after 28 years of the partition of its East and West sides, Germany has become a peaceful and unified nation.
There are vast stretches of unspoilt landscape in this land in the heart of Europe, with forests, hills, mountains, lakes, and waterways. Its coastal areas boast splendid beaches. The agricultural areas have miles of beautiful countryside.
Many ancient palaces, charming old towns, castles, and villages can be seen in Germany's fairytale landscape. While some areas, especially major cities and ports, were devastated during World War II, much fine architecture from ages past has survived and been lovingly restored, such as the massive gothic cathedral in Cologne, and the medieval towns along the romantic route in the South.
Theatres, concert halls, and opera houses abound in Germany's towns and cities. Many delightful festivals are also celebrated throughout the country, the most famous of which are the Bayreuth Opera Festival and the Berlin Film Festival, both held yearly. German beer and wines are also celebrated in the famous Oktoberfest, and the harvest wine festivals throughout September, along Germany's wine routes, with its region having its own types.
Germany's major cities, especially Berlin, Frankfurt, and Munich, are modern, futuristic and are big centres of shopping and nightlife, and sources of history and culture. There are many fashionable stores and countless pubs, bars, restaurants, and cafes in these vibrant cities.
The peak season for visiting Germany is from May to September, when the weather is at its finest. The climate tends to be unpredictable, with rain almost half the year. It is quite cold from November to March, with short days and below-freezing weather, but the Bavarian ski resorts are a main attraction at this time of the year.
Large and varied, Germany is divided into 16 federal states, each with its own unique character.
---