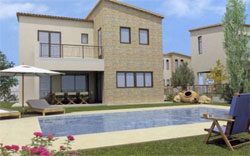 With its 25-kilometre, palm-lined beachfront, Larnaca is one of the major tourist areas of Cyprus. It is home to the island' biggest airport and has a major commercial seaport. Larnaca is especially lively in the summer, when the major carnival known as the Festival of the Flood takes place. For nearly a month, the quayside is closed to traffic at night and features rides and stalls that sell the local sweet loukmades and other items. Water sports are also part of the celebration.
Larnaca was established by the Phoenicians in ancient times. Few ancient structures still stand, due to the many earthquakes that have hit the area. But many remnants of past civilizations have been unearthed. The main archaeological sites include the ruins of the ancient city of Kitium, a complex of five ruined temples, and the famous marble bust of Stoic philosopher Zeno. These and six museums can be found in the middle of the town.
There are also some fascinating places of worship, such as the underground chapel of Ayia Phaneromeni, in a cave that was probably once a pagan tomb, and a 9th century Byzantine church built over the tomb of St. Lazarus. Facing the sea is a 17th century fort that is now a museum and a cultural venue. Just outside the town is a Roman-style 18th century aqueduct that is lit up after dark.
Despite all these reminders of days gone by, Larnaca is a very modern city. It has a vibrant shopping district centred on Zenon Kitieos Street, with many little shops and a large fresh produce market. For most part, Larnaca has a tranquil atmosphere, being much smaller than Nicosia and Limassol.
---