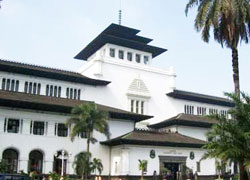 Central Kalimantan is one of four provinces on Kalimantan, the Indonesian part of Borneo. Its capital is Palangkaraya. The third largest province, it has the highest concentration of Dayaks, the indigenous inhabitants of Borneo.

The island is thick with nature. Central Kalimantan is covered in dense tropical forests, swamps, rivers, mangroves and farmland, while the Schwaner Mountains stretching through it. Sebangau is a supposed protected land area, a sanctuary for the endangered Orangutan. Recently though, part of the area was damaged due to the unsuccessful venture of the Mega Rice Project, hoping to turn this large area into rice fields.
Palangkaraya
The inland city of Palangkaraya, built on the site of the Pahandut village, is the capital of Central Kalimantan. It was once the principal city of the autonomous state Dayak. Dayak locals are now joined by Chinese and Japanese residents. Residences in Palangkaraya are mostly on the backstreets, and enjoy a laidback pace.
Palangkaraya has an interesting market which has a day and night shift. During the day, the market is filled with fresh fruits and vegetables, and meat. As the day matures, stalls selling all sorts of accessories, trinkets and gadgets are set up. Food stands are erected and serve locals and tourists until night time.
Kualakapuas
Kualakapuas, the capital of Kapuas, is situated south of Palangkaraya in Central Kalimantan. The remote city thrives in gold mining.
Telo Islands
Between Nias and Medawai Islands is Telo Islands, which consists of 51 diverse islands. Telo is a revered spot for surfing, and is known for a left-hand reef break in a tiny island, or a series of left breaks in another.
South of Telo is Sibranun, which is covered in coconut palm trees and bordered with rocks on the water. It consists of about 200 villages.
---