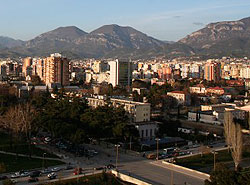 Albania is one of the poorest countries in Europe, and is commonly thought of as a sleepy backwater. It was closed to the rest of the world during the decades of Communist rule, and popular imagination sees it as full of tattered cities bearing scars of war. Albania is also perceived as a dangerous country, its reputation marred by involvement in the political agony of its Balkan neighbours over the last two decades.
These perceptions could not be further from the truth. And once you enter Albania, all these images fall away.
Nowadays, Albania is working hard to catch up with the rest of the world. It is rebuilding its cities, improving roads and infrastructure, and preserving its old towns and historically important centres (some of which, such as old Butrint, provide insight into one of the most powerful civilizations of the ancient world). And Albania welcomes people from all over the world with the characteristic boundless hospitality that its people have practiced for thousands of years.
With its dense forests, majestic mountain ranges, glorious coastlines, and fertile plains with serene lakes, Albania is blessed with a stimulating natural beauty. People come to Albania to enjoy holidays on its snow-capped, rocky mountains, or long hot summers on its unspoiled beaches, with their blazing blue waters and fine white sands. There are beautifully preserved ancient towns with Albania's mixed Occidental and Oriental cultural heritage.
Despite language barriers (few Albanians have more a smattering of English at their disposal) and poverty, Albanians are very friendly to foreigners. While Albania remains poor, tourism is picking up, helping to turn the country's economy around.
The locals are a lively bunch, and the busy clubs, caf?s, and cultural festivals show that Albania is no longer a repressed, country. Nowhere is this more evident than in the capital, Tirana City, which offers a bustling urban experience and an exciting nightlife.
Albania has a lot of problems, including considerable emigration in recent years that has resulted in an estimated one-fifth of its total population presently living abroad. Power outages are still common occurrences. Many of the roads are bad.
But these shortcomings are understandable in a country still coming out of years of isolation into the world of globalisation. And for many tourists who have discovered the country, Albania's greatest assets more than make up for them: a Mediterranean climate, beautiful white beaches, and warm, welcoming people.
History
In antiquity, Albania's territory was occupied by the Illyrian Kingdom, which reached its zenith in the 3rd century BC. The Romans then ruled for six centuries. After the Romans, Albania became part of the Byzantine Empire.
The Albanians fiercely resisted the Ottoman advance in the 15th century, but in 1478 finally fell, and became part of the Ottoman Empire. Many Christian Albanians fled to Italy, mostly to Calabria and Sicily, but the majority of the population converted to Islam. Albania remained part of the Ottoman Empire until 1912.
In 1920 the country became a republic, but starting in 1928 the new King Zog began to cede Albania's sovereignty to Italy. In 1939 the Italians invaded. During World War II, Albanian nationalist groups fought the Italians and then the Germans, and by November 1944 had thrown the Germans out. Enver Hoxha, secretary general of the Party of Labor (the Albanian Communist Party) became leader, and ruled for four decades with an iron fist.
After World War II
In 1960 Albania broke with the USSR, refusing to follow it into de-Stalinization, and entered into alliance with the (still Stalinist) China under Mao. However China cut off aid in 1978, so Hoxha emulated Stalin's absolute dictatorship and allied his country with his sonets. He largely severed contacts with the outside world, except North Korea. Hoxha died 11 April 1985.
The March 1991 elections saw the former Communists retain power, but after a general strike and urban opposition, Albania's former Communists were routed in elections in March 1992, amid economic collapse and social unrest.
Sali Berisha returns
Sali Berisha, a former communist who had in 1991 opportunistically switched sides and joined the newly-created Democratic Party of Albania, was elected. He embraced free-market reforms, but was seen as corrupt and oppressive, allowing politically-connected Ponzi schemes which caused riots to ravage the country. In 1997 the opposition won amidst chaos, and Berisha was forced to step down. He continuously complaining and alleging fraud.
Berisha kept up the pressure, and in July 2005, victory by a pro-Berisha coalition ended eight years of Socialist Party rule.
---