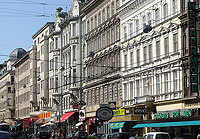 The 9th District, Alsergrund is often called the university quarter, as it is the district containing the University of Vienna. The former home of Sigmund Freud, the father of psychoanalysis, still stands here, on Berggasse, and is now the Freud Museum. A large number of hospitals and clinics are located throughout Alsergrund. Students and health workers make up a significant portion of the Alsergrund population.

Alsergrund has quite a large population, due to the presence of many housing council blocks. But some parts of the district have luxury town houses like those found in neighboring Josefstadt. It therefore offers a wide range of housing from low- to high-end.
Alsergrund is bordered on the west by the Gartel Road, which is known as a red-light area. But this part of the Gurtel Road has fewer red-light establishments than usual. In fact, you will find one of Vienna's major opera houses, the Volksoper, in the Gurtel area of the 9th district. Also in this area is the Mullverbrennungsanlage Spittelau, an incinerator of striking design by the Austrian artist Friedensreich Hundertwasser.
Other notable 9th district attractions include the Votivkirche, a neo-Gothic church; and Palais Liechtenstein, a grandiose Baroque palace that exhibits part of the impressive private art collection of the Prince of Liechtenstein. The Palace grounds compose an attractive park that is open to the general public.
In the north of Alsergrund is the Franz-Josef Bahnhof, a railway station that is a major transport hub for travel to northern Austria.
---