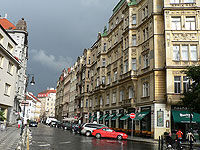 The 8th district (prime area) lies just north of Neubau, the 7th district. Josefstadt is the smallest district in Vienna and the second least populated (after the 1st district). It is considerably quieter than its lively and fashionable neighbor, Neubau.

Josefstadt is well-populated with attractive apartment buildings and houses, many of them bearing Baroque or Biedermeier architectural styles. With its beautiful residences, quiet streets, and central location, Josefstadt has proven irresistible to the many wealthy Viennese who live here, making the 8th district a high-end, luxury neighborhood.
However, Josefstadt is also bordered on the west by the Guartel Road, an unattractive red-light area. If you see an ad for a cheap apartment in Josefstadt, check to see how close the place is to the Guartel. On the other hand, due to its cheapness, a lot of foreigners do reside in this less savory part of Josefstadt.
The Palais Schonborn, a 17th century palace, is one of the 8th district's major attractions. The former palace gardens now make up Schonborn Park, one of the few "green" areas of Josefstadt. Other attractions include the Piaristenkirche Church and the Theater in der Josefstadt, one of the city's oldest theaters. (English speakers, however, may prefer to patronize the 8th district's Vienna International Theatre for its English-language productions).
---