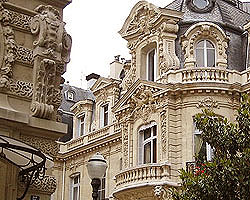 An upscale neighborhood, the 8th arrondissement is one of Paris's main business districts. With its historic landmarks, 19th century architecture, upscale stores, and museums, it is much more interesting than the 2nd. It is on the right bank of the River Seine.
The Opera is at the centre of this district. The famous Arc de Triomphe can be seen here, along with the Place de la Concorde, the largest square in Paris. It was in the Place de la Concorde (then called la Place de la Revolution) that the French King Louis XVI, Marie Antoinette and many others were guillotined during the Terror. The 3,300-year-old Obelisk of Luxor is found in this plaza.
For shopping, there is the prestigious Avenue des Champs-Élysées, a wide gracious avenue which runs from the place de la Concorde to the Arc de Triomphe. Glamorous houses of couture are also found on the avenues George V and Montaigne just off the Champs-Élysées. In the area between Alma-Marceau and Trocadéro can be found some striking monuments, the Musée Guimet of Asian arts, and the avant-garde Palais de Tokyo, but there are few shops, restaurants and nightspots here.
The 8th has the city's some of the most outstanding establishments in Paris: The best restaurant (Taillevent), the sexiest strip club (Crazy Horse Saloon), the best rooftop café (La Samaritaine), the finest hotel (the Crillon) are here, along with the most expensive residential street (Avenue Montaigne), and the world's oldest subway station (Franklin-D.-Roosevelt). Adding to the prestige of the district is the fact that the Élysée Palace, the official residence of the President of France, is located here.
The price of apartments in the 8th varies considerably, depending on the district. The more bourgeois and grand can be found in the triangle d'or (golden triangle, which is the area between the Champs Elysées and the Seine). Rents are especially expensive in the Francois 1ere area, the district's calmest section.
The Champs Elysées district offers various styles of apartments. The disadvantage is heavy traffic, tourism and narrow streets. This is, after all, an elite business area.
The Haussmann architecture around Monceau, its large tree-lined avenues, promise a quiet life. Apartments tend to be large and slightly less expensive than the southern areas.
Towards the east, in the Europe and Madeleine districts, apartments are still prestigious, but the area has a somewhat busier feel.
---