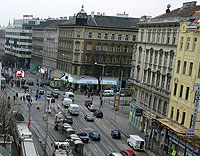 The 7th District, Neubau was long populated by artists and students, as many cheap rentals were to be found here. Today, the district is very fashionable and no longer cheap (although it is not highly expensive either, for Vienna).

Neubau has much in common with the 6th district (Mariahilf). Like the 6th, Neubau borders the highly popular Mariahilferstrasse shopping street. Lined with the flagship stores for international brands, Mariahilferstrasse attracts large numbers of visitors, which leads to a great deal of congestion, particularly in the weekends leading up to Christmas.
Neubau also shares eastern Mariahilf's reputation as a trendy and happening district. In fact, Neubau is widely considered to be the epicentre of Viennese nightlife. You can find many a good restaurant here, not to mention chic bars and lively nightclubs.
Spittelberg
Spittelberg is the most notable quarter of the Neubau district. It is a charming neighborhood of Biedermeier-style 18th-century buildings along old cobblestone streets, grandly evoking the romantic essence of old Vienna. Many of these lovely buildings now house art shops, galleries, theaters, cafes, restaurants and bars. In the Yuletide season, the quarter hosts the lively Spittelberg Christmas Market where you can shop for unique arts and crafts. Spittelberg is a highly fashionable neighborhood, and you can expect rents there to be rather expensive.
Museums Quarter
The Museums Quarter, found north by the border with the 1st district, is a major attraction within Neubau. As its name implies, the quarter is home to a number of art museums, including the Leopold Museum and the MUMOK (Museum of Modern Art). It also features such cultural institutions as the Tanzquartier Wien, a centre for contemporary dance; the Kunsthalle (Art Hall Vienna), an exhibition space; and the Architektur Zentrum Wien, an exhibition space with a focus on architecture. Next to the MuseumsQuartier is the Volkstheater, an imposing perfomance space that counts as one of the biggest theaters of the German-speaking world.
On Neubau's western border lies the Gürtel Road area, which is an unattractive red-light district and is not likely to be a good place to seek property.
An International Montessori School is located at Westbahnstrasse 1 in Neubau.
---