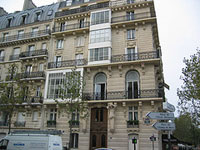 A favorite tourist destination, the 7th arrondissement is located on the left bank of the River Seine. This is the district where Paris's most famous landmark, the Eiffel Tower, rises high above the city. Napoleon's resting place, the Hôtel des Invalides, is here as well. Several French national institutions are found here also, including the French National Assembly, some government ministries and embassies, and the Hôtel Matignon, residence of the French prime minister. These are housed in regal buildings that rival Napoleon's gold-domed mausoleum.
As you might expect from a district populated by the wealthy, as the 7th arrondissement is perhaps the most expensive area to live in Paris. Dining out here tends to be a costly affair as well.
Altogether, the 7th is a place that exudes quiet elegance. It looks—and is—expensive and prestigious.
The 7th arrondissement is dominated by Haussmann and 1930's architecture - calm, clean and very bourgeois. Rents in all parts of the 7th are expensive, as it is one of the most prestigious Parisian postcodes.
The apartments are usually family-sized residences with several bedrooms, large reception rooms and good light. The streets are narrower as you approach the river, but still very elegant.
If you are an art lover, you may well want to come here, for two excellent collections of 19th century art are found in 7e. The Musée Rodin, specializing in the French sculptor's works, has impressive outdoor displays in the artist's lovely rose garden and an intimate one inside his house. The Musée d'Orsay is an extensive showcase of Impressionist artworks. The size of its collection may not rival the Louvre's, but it certainly has more than can be comfortably taken in during just one visit.
---